A look at the color white in Fate Reforged as it pertains to pauper cube.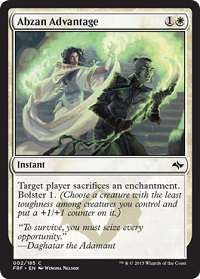 Abzan Advantage not being able to target the enchantment hurts this card. If you have a heavy enchantment themed deck in your cube, destroying the right enchantment at the right time can be very important. Hitting an abundant growth instead of an Ethereal Armor or Armadillo Cloak would be devastating. Also the card doesn't do anything on its own outside of being a sideboard card. I have Kami of Ancient Law in the cube which has a relevant body until a threatening enchantment shows up. Abzan Advantage is not going to make the cut for my cube.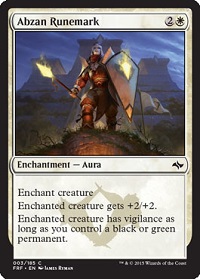 Abzan Runemark is great though it can lead to card disadvantage as it is a creature aura. It is much cheaper than several similar effects. Observant Alseid is slower, more versatile, and does not suffer those disadvantages. I went ahead and bought copies of this card in case I decide to add this card or any card from this cycle. For now, Abzan Runemark will stay on the sidelines.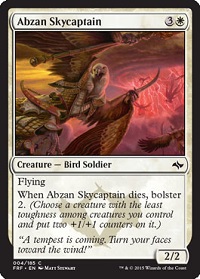 Abzan Skycaptain is an interesting card. There are all sorts of four mana 2/2 fliers at common and they are rarely played in cube lists. There are exceptions if an ability attached is worthwhile, ie. Mist Raven. Bolster 2 seems powerful in the right circumstance. Is it more powerful than drawing a card like Aven Fisher does? Is it more powerful powerful that reanimating a creature card converted mana cost 2 or less like Driver of the Dead? I am not completely sold on Abzan Skycaptain. I don't think there is room for a subpar creature that has a decent death trigger effect. I bought a copy for testing, though I will be passing on it for the initial Fate Reforged change list.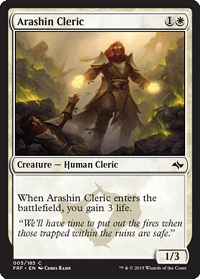 Arashin Cleric is a Lone Missionary that wants to stop aggro. The card would not terrible but my cube has a very limited number of cards that stop or hold back aggro with a big backend(toughness). I try to stay away from these type of cards unless aggro starts to be too powerful. Maintaining a strong balance is key when you are designing a cube. I don't think this one card alone would be back breaking for aggro strategies, but I don't think my cube needs Arashin Cleric either.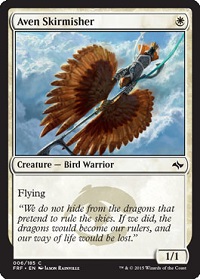 Aven Skirmisher is an effective reprint of Suntail Hawk with different creature types. Suntail Hawk doesn't cut it in my cube. You don't get enough out of the card to make it worth playing. I don't even run Doomed Traveler because I feel that card wants to be a Suntail Hawk most of the time, though it does have its uses. The other one mana white drops in my cube are often strong even if drawn later in the game. Aven Skirmisher is too weak.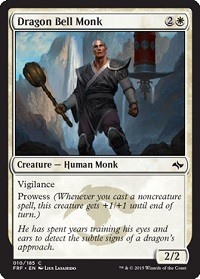 Dragon Bell Monk is a Grey Ogre with considerable upside. Vigilance is always nice on a creature and prowess is powerful in the right deck. I am not sure if white in general, much less in my cube, has the spells to take advantage of this ability. I did not add Jeskai Windscout to my cube yet and it has a form of evasion attached to it. I have thought about adding Jeskai Windscout several times to bump up the spells matters theme in red and blue. I have been considering Kiln Fiend as well but I haven't made the leap yet. I think I will end up putting those cards in my cube soon though, though I am skeptical if it will make the transition to white. Dragon Bell Monk is a good card and it may make it into my cube eventually. For now it will remain in the maybeboard.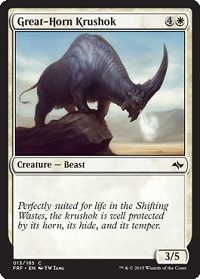 Great-Horn Krushok is a slightly larger Pillarfield Ox. Great-Horn Krushok is just vanilla and not interesting. I would rather play Totem-Guide Hartebeest and I do not currently play that.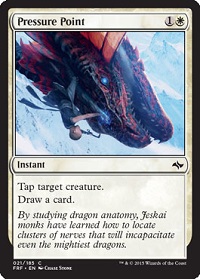 Pressure Point is a cantrip with a marginal effect. I don't think I need any more of this effect in my cube but there are those who might. Blinding Beam and Feeling of Dread fill a similar role in my cube and do it better.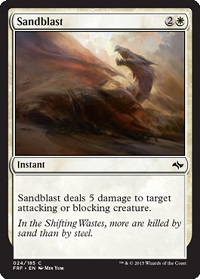 Sandblast kills most things attacking or blocking but at the moment white in my cube relies on tricks and pacifism type effects. By limiting what colors have instant speed removal it opens up the cube cardpool to various combat tricks and not having to worry about getting 2 for 1'd all of the time. There are still several oppotunities in my cube to be 2 for 1'd but I have tried to limit them in order to allow combat tricks to be playable, making for more entertaining matches. Not needed for my cube at the present time.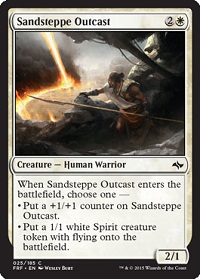 Sandsteppe Outcast is a card that I am adding to my cube. The card works well with the already present token strategies. I had Seller of Songbirds in my cube for a while and this card is very similar. The 1/2 body allowed it to be picked up late by token drafters but often they still would not play the card and it got cut from the list. The 2/1 body of Sandsteep Outcast is aggressive and respectible in the cube. I see this only rarely being cast as a 3/2. Definite inclusion to my list.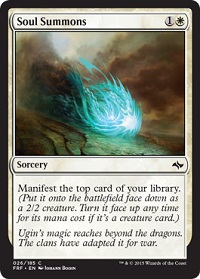 Soul Summons gives little if any advantage over any random vanilla 2/2 for 2 mana. It does have a better mana cost ratio than the other manifest cards but that is no reason to run the card. Sometimes players might try to target the unknown, but most will not.