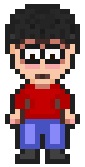 I have never been someone who makes New Year's Resolutions regularly. This year is going to be different. I'm going to push as hard as I can and shine greater than I have ever shined before.
I know I won't be able to keep every single one, but I don't look at them as strict resolutions but more of as goals that I'll try my hardest to accomplish. Most of them have to do with this website, so let's discuss what plans I have in the works.
More VS2PCG Content
It takes a lot of effort to get daily content up, often I have to write it that day or if I know I won't be able to, write it several days in advance. This past month I have started doing that and while I did skip a few days, overall I have figured out how to manage the workload well, but sometimes there are going to be conflicts as life gets in the way.
I aim to be the hardest working person in VS2PCG and hopefully I will be able to keep the website running. It does cost time and money to run this website and it is a true labor of love.
Deck System to Incorporate Pauper
By the end of the year I want to be able for users to create and share decks on my website, search for other decks and much more. I want there to be essentially be tournament software where people could run local store tournaments and get pairings via my website. Those tournaments could be tracked for events and be looked up. This would be a lengthy process to make it happen but I know I have the skills to program it.
Other Contributors
I am always looking for others who would like to contribute on my website so if you are interested, drop me an e-mail. I may accept or reject content from people but please don't take it personally. I want my website to stay in the direction it is going and grow in various ways to eventually become self sufficient at the very least.
Weekly Website Recaps on Mondays
This will give everyone a catch-up article so if they missed something they will be able to see it. I had thought about making a newsletter as well but I'm not sure I have the dedicated viewership to warrant that at this time. Let me know what you think! It will take some time to get the formatting down to where I am comfortable in starting it as a weekly thing.
Weekly Pauper Content
I am a big fan of Pauper as I am one of the founders and I at least want to get something up on my website weekly to help support that format. I don't know how many of my current viewers will like it but it should grow my website in popularity regardless, and at the end of the day I am going to do it anyways.
I need to transform the deck view in order to post good decklists in a similar fashion to the VS2PCG decks I display. It will also take quite a bit of database entry at first due to the lack of Magic the Gathering cards in the database.
Pauper Cube Content
More new card analysis and going through old cards and seeing where they might fit in to my cube and how they stack up against other cards to possibly fit into your pauper cube.
Push harder on the Job Search
Currently I am jobless. This is my highest priority at the moment. I need a job that is flexible to allow me do earn my stead and still be able to do all of these things on this website. I add a couple more non intrusive ads to try to earn something off of this website but I doubt that this website will ever be able to support me alone. I will likely do Uber and/or Lyft for a while.
My degree is in Website Development though I want to ideally work on game development instead. I want to make board and/or video games ideally. I don't want to stay in website development unless it is in a gaming company where I also do other tasks.
I do want to be an entrepreneur and own my own company someday soon, or be in a company that I felt was like what I envision. It has taken me years to finally figure out what I want to do career wise. I had that dream when I was younger but believed it to be too hard or too much of a long shot. I am now motivated in doing whatever I can to make that happen.
Game Development
I have decided to start programming an app game when I have time. I will update this periodically, hopefully every 2 weeks or at least once a month, though with everything else going on it is going to be on the back burner for a while.
Weekly Board Game Content
Not only do I want to do the "10x10" challenge this year, but I want to showcase board games on my website in articles to get me playing more of them. I used to play them a few times a week and now it has dwindled down to a nearly non existent level.
I do want to go through every Descent Second Edition adventure and analyze them. Even build custom campaigns and maybe have a forum section for posting painted figures and custom figures.