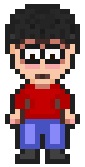 First of all, I am back and this time stronger than ever. I have had a lot of hard and stressful things happen over the past few months that have pulled me away from regularly updating this website but I won't let things like that push this website aside any more. Everything under the moon has happened from losing my job, pulling my back out, my girlfriend's daughter in the hospital twice, having multiple family members ill and in the hospital, my grandmother who I was very close to passing away, getting a 2 week cold, getting a flat tire, having my dog attacked by a stray dog and receiving a bite near the jugular which would have been a kill bite(which he has since fully recovered from) and the emergency veterinarian did not staple him up correctly so he had extra healing time and had to have extra antibiotics. There are several other things that have happened which I won't go on to list. I'm not going to let that keep me down however, we must go on with the show!
Website Updates
The website was moved to a new hosting server last month and I believe I fixed all of the bad links any any issues that came up in the website transfer but let me know if anyone sees anything that is working incorrectly.
I have updated the card database with the pictures and names of all of The Alien Battles cards finally. Eventually there will be an advanced search but for the time being the current layout will suffice. I also added that the level 1 MC will be the default viewing pane for decklists and for cardlists it will have the VS2PCG cardback logo.
Future Plans
I'm pleased to announced that the Team Attack Podcast will be fully hosted on paupertim.com rather than soundcloud in the near future if everything works out correctly. There are bandwidth concerns there but I doubt there will be a problem.
Several new articles breaking down each MC and each faction to show the strengths and weaknesses of each. This will hopefully get people discussing what certain MC's need or certain teams need to even have a chance at being a decent deck now that we have a legacy set announced. Along with this, I plan on running decks demonstrating different ways to build the MCs through a gauntlet of decks to help show how good or bad the MCs or teams really are.
Having daily articles, even if it is just a highlight on a card and how the card can be used advantageously along with ruling questions. Alongside this I will have a general ruling document with frequently asked questions that can point to each card and show exactly why they work how they work much like the spreadsheet in the VS 2PCG Collective on Facebook has. With this I will also add a new feature where if I update a post discussing a card for example, it will sort it out on the main feed of the website as a newly updated article.
A week in review article which will highlight website content and updates that happened during the week. This will include other areas of the website other than VS2PCG. I will actually start contributing more on other sections of the website at least weekly in addition to keep VS2PCG content rolling out.