Post under General by: PauperTim on January 14, 2016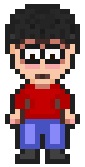 I am returning to working on the website. There were some personal issues that came up in my life and it demotivated me to work on the website.
Now I will be working on it quite a bit more, though I have quite a few other little projects that I will also be working on. I plan to add magic the gathering Pauper videos in sortable playlists as well as VS2PCG content among other content such as board game night recaps and other content. 2016 is going to be a great year and I'm going to make sure I keep this website updated.
---
About the Author
PauperTim is this websites owner and has always been into games of all sorts. He is a founder of the Pauper format for Magic: The Gathering. You can find him on facebook, twitter or OCTGN as PauperTim or as TheOrangeMitten on Magic Online.