<< Previous
1
2
3
4
5
6
7
8
9
10
11
12
13
14
15
16
17 Next >>
Post under VS2PCG by: PauperTim on January 14, 2016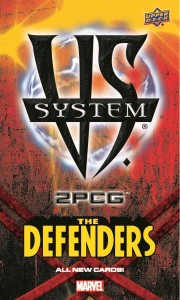 For those who haven't been introduced to VS System, it used to be an old CCG card game though due to several contributing factors, the game died out.
However, they have brought it back in a LCG style model which is where you buy a box of cards and know exactly every card that is in it. No more random boosters hoping to get the cards that you want. Not only do you know what you are getting, but they give you a playset of all of the cards so you don't even really have to buy more than one copy.
My only experience with the old CCG was upon initial release with a few starter decks. I never got very interested in the game because I was more into magic, and would rather put my time and money into it. The great thing about the LCG format, is that I don't have to dump a lot of money into it to own a playset of everything. This keeps my wallet happy and it makes me feel like my investment is low.
Click to [Read More]
<< Previous
1
2
3
4
5
6
7
8
9
10
11
12
13
14
15
16
17 Next >>