Post under VS2PCG by: Team Attack on May 2, 2017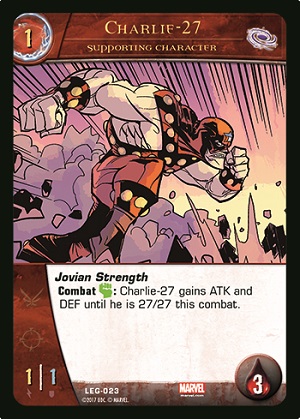 Many of you may not know who Charlie 27 is. We don't blame you. Written in 1969, Charlie was born on Jupiter, where he was bio-engineered to be one tough SOB, fought in a malitia, and founded the Guardians of the Galaxy. Charlie is only our second character who doesn't hail from earth 616, but he has visited our universe before. He's even an honorary Avenger. He's also not someone you want to mess with, just ask Korvac.
Fixed Download Link
---
About the Author
The Team Attack Podcast is a VS2PCG and Legendary Podcast. Your Team to attack with is Carlos Luna, Theodore Coyer Peter Hoettels and PauperTim(Tim Saunders).