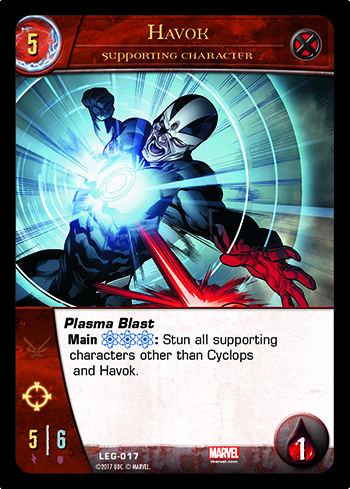 Alex Summers, brother, leader, and not Scott Summers. He is also our newest addition to the X-Men affiliation in VS.
In the comics, Havok is underrated. He has lead his own team X-Factor, and has the Avengers into battle. He lives in his brothers shadow and his brothers accomplishments, so he is often overlooked.
Fixed Download Link
His power is stronger than his brother Scott's power. Speaking of his power, let's get to the card. He is a five drop with range. He has 5 attack and 6 defense with one life, making him a solid drop. His super power is his best feature, for 3 laboratories, you can stun every support with the exception of himself and Cyclops. So basically, he resets the board, with ideally two people left on your side, and one left on their side.
This power can change the course of an entire game. Stop flood/swarm decks. Pixiularity may have issues with this. It is so strong. Any power that can reset the game in your favor, is a power that is a force to be dealt with. So after Havok uses his super power, himself, you MC and there MC are all that is left ideally. Which means you have the board.
Where is this card going to call home. Tim Saunders has a great idea. Kingpin. His ability to gain resources, gives Havok the ability to go off. So to start, build a bit of a stall with Kane. After you use havok, a good closer is Crystal. You have 3 to their 2 possible. More of this deck will happen with more reveal, but it is a strong power and a strong move and just flat out fun time to do it.
His card accurately portrays himself in the comics which is great. Kudos to Ben and Danny for another flavorful card design. This is Havok. This is his wrath. This is the new force of power that must be respected. Happy deck building.
Team Attack Podcast Episode List